After three very different debates, we will focus with a smaller crowd on some very disturbing images and how to handle these in an artwork. To do this, we are warmly welcomed by Jane Amegah at her Salon de coiffure Akwaba.Jane Amegah is a hairdresser with a mission: she organizes debates about life with a culturally diverse identity, métissage, and how to surmount the difficulties and wounds this (in a sometimes hostile environment) may inflict. I feel honored to be allowed in with my noisy 16mm projector.
Speaking of noise: we will also be allowed to discover a darker side of DJ and general star Rokia Bamba who has been following my work forever, now that she has translated one of my chapters into a sound art work.
After that, I will show some new and some old 16mm film images illustrating the chapter on exoticism. Together with moderator Peggy Pierrot, I will then invite the public to discuss this issue, and other issues that involve art and sensitive imagery. I hope for a fruitful discussion.
Videos on the four projection-with-debates will be presented here and elsewhere by the end of the month.
Thanks to nadine; my partner in all this!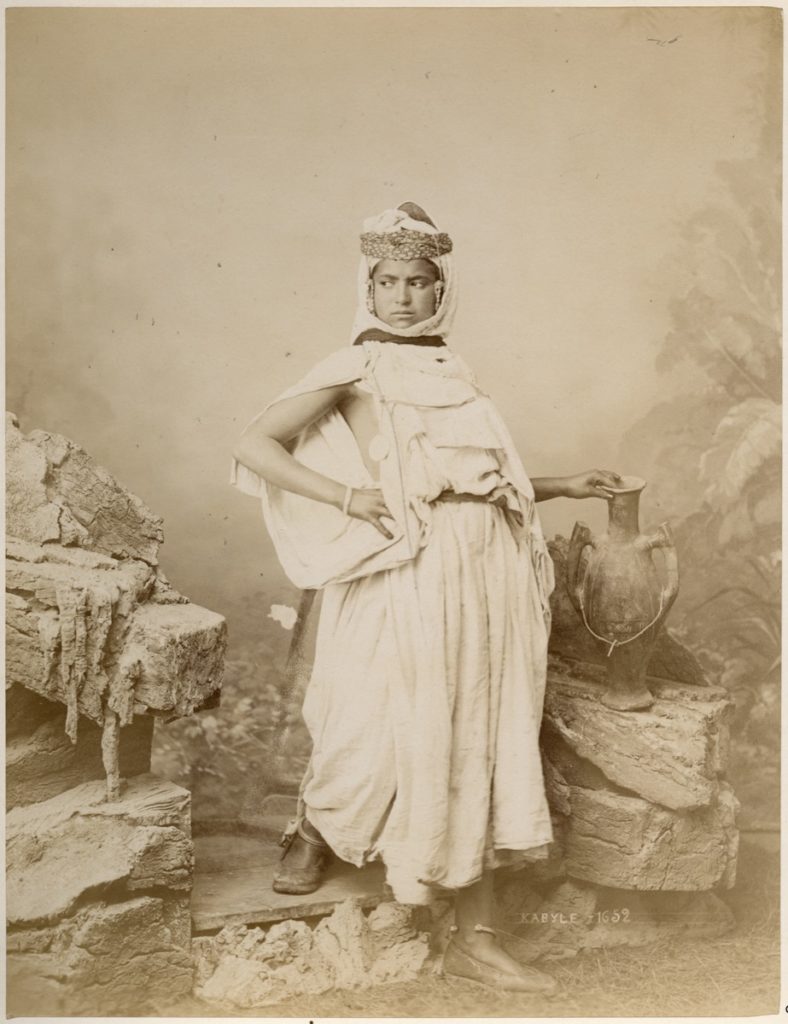 Photo: Between decor elements, in front of a painted background, a young woman tries to meet the photographer's demands.  'Kabyle 1652', probable photographer Alexandre Leroux (1836-1912) in Algiers, Pitt Rivers Museum Collection.
Frame:
21C/19C Procedures for Anthropometric Image Reversal – Antje Van Wichelen
Through the lenses of 19th-century photographers, visual artist Antje Van Wichelen dives into the clichés and underlying motives of the Western colonial anthropometric photo collections. Using manual 16mm-film development and printing, she re-writes these images and gives us a new, contemporary perspective.
21C/19C Procedures for Anthropometric Image Reversal is an artistic search for an engaged way of dealing with sensitive imagery.

Screenings with debate
During four public evenings, different chapters will be shown on 16mm film. Afterwards, people are invited to join an open conversation. Please book in advance because seating is limited. You can sign up via email (loes@nadine.be).
More info:  http://nadine.be, http://www.creative-district.be/21c19c-procedures-for-anthropometric-image-reversal-antje-van-wichelen/, http://akwaba.brussels/
21C/19C was made possible thanks to the museums that opened up their archives of photo collections for this project: Wereldculturen (NL), Tropisch Instituut (BE), Pitt Rivers Museum (UK), Quai Branly (FR), Rautenstrauch Joest Museum – Kulturen der Welt Köln (DE), Royal Museum for Central Africa (BE), Kulturen der Welt Berlin (DE).
In collaboration with Constant vzw, Creative District, L'Horloge du Sud, Jane Amegah (Akwaba), KAOS vzw, KMMA, KUUMBA, LaboBXL, Mossó, nadine, Workspace Brussels; and supported by Vlaamse Gemeenschap, VGC, Elsense schepen van Nederlandstalige Aangelegenheden Maite Morren, and the Commune of Elsene/Ixelles.